When you arrive at the Woodmen's Museum in Boiestown, New Brunswick, make your way to the Main Entrance. This building houses our admissions, gift shop, natural history exhibit and art gallery. Here you will be welcomed by friendly and knowledgeable staff member who will provide you with the essential details to kickstart your tour. A sitemap that includes descriptions of each special building and exhibit will be provided to you. Spanning 26 unique spots—including buildings, shelters, and even a full-scale avenger plane—prepare to explore the extensive grounds on foot!
Group, Bus, and Motor Coach Tours
Our open-air museum is always ready to host Group, Bus, and Motor Coach Tours. Enjoy a self-guided tour and indulge in traditional black tea and molasses cookies either in our Lumber Camp or the Cedar Room.
We can comfortably host up to 150 guests, with dining and catering options available.
Parking is never an issues as our facility is equipped with ample parking that can comfortably accommodate buses and motor coaches.
For arrangements and details, reach out to us at 506-369-7214 or info@woodmensmuseum.com
We look forward to your visit!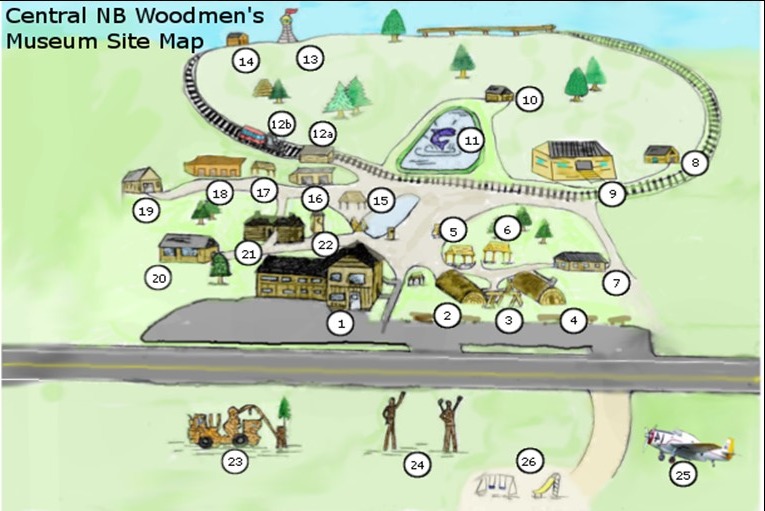 Self Guided Tours
The Museum offers a Self Guided Tour with a sitemap. The sitemap provides information with regard to each exhibit/building to assist you on your self-guided tour. As these are self guided tours, the time it takes you to enjoy the museum will depend on your interest in the various exhibits, while some people visit for 30-45 minutes, others spend the better half of the day on the grounds enjoying the exhibits, the pond, and the landscape, packing a picnic lunch to enjoy.