When you arrive at the Woodmen's Museum in Boiestown, New Brunswick, head to the main entrance which is where the gift shop is located. You will be greeted by one of our employees who will provide general information so that you can proceed with your tour.
Admission to the site is paid at the gift shop.  A site map is provided so that you won't miss anything and it has a brief description of each building or location. Each building is marked "entrance" and "exit", with hand sanitizer clearly identified in grey boxes near the doorways.
Our site consists of 26 buildings or locations (buildings, shelters, full scale avenger plane, etc.), so come prepared to walk around the site!
Group, Bus, and Motor Coach Tours
The Museum is always eager to welcome Group, Bus, and Motor Coach Tours at our spacious open-air museum.  We can offer self guided tours and the opportunity to enjoy black tea and molasses cookies in our Lumber Camp or in our Cedar Room.
We can accommodate a group of up to 150 people our dining room and catering services are available by the museum.
Our spacious parking lot can accommodate your bus or motor coach.
Please call the museum for arrangements and details, 506-369-7214.
We are excited to see you!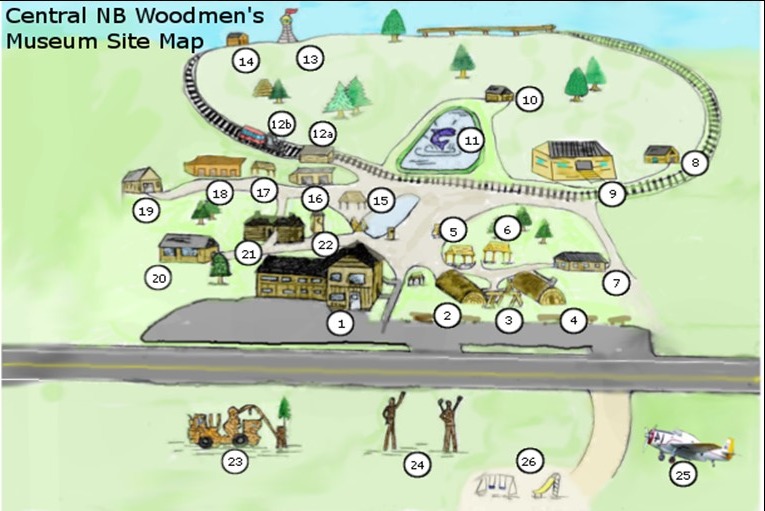 Self Guided Tours
The Museum offers a Self Guided Tour with a site map. The Site Map provides information information with regard to each exhibit/building to assist you on your self-guided tour. Your visit depends on your interest in the various exhibits and can last from one hour to one and a half hours; others stay with us all day. It's your choice!